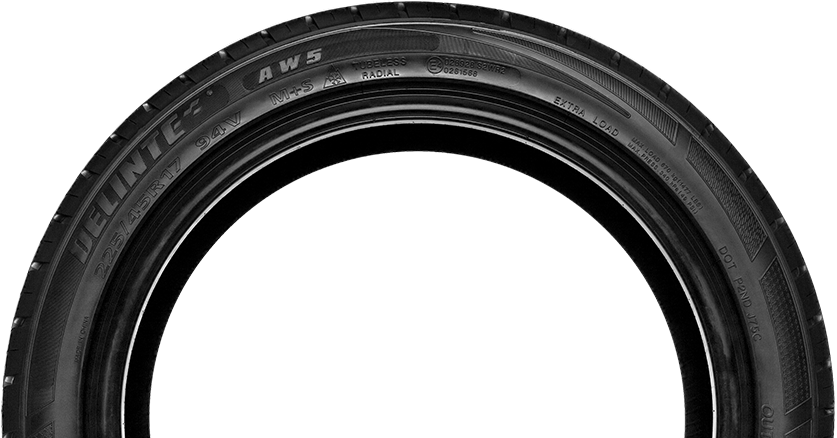 AW5

The Delinte AW5 Van is a technically sophisticated product. With its unique tread design, the tyre excels in all seasons. The unique dual-compound tread provides good grip in all circumstances. The tyre has also received the 3PMSF classification (Three Peak Mountain Snowflake), which means these Delinte all-season tyres conform to the various winter legislations in Europe. This means you are allowed to drive in winter in these countries with these all-season tyres.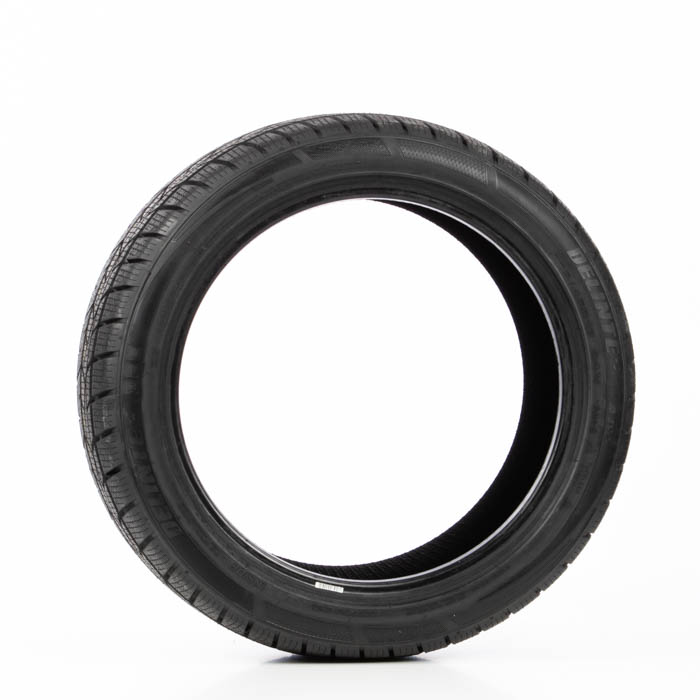 Properties
Braking performance
Asymmetrical tread construction, optimal grip, and better braking performance.
Grip
Multiple continuous lengthwise grooves, faster water drainage, maximum control on a wet road surface.
Tread construction
Continuous, diagonal crosswise grooves, reduced risk of aquaplaning.
Stability
Wide, specially strengthened shoulder blocks, optimal stability.
| Size | XL | | | | | | |
| --- | --- | --- | --- | --- | --- | --- | --- |
| 80 Series | | | | | | | |
| 155 / 80 R13 | | 79 | T | E | C | 2 | 72 |
| 70 Series | | | | | | | |
| 155 / 70 R13 | | 75 | T | E | C | 2 | 71 |
| 165 / 70 R13 | | 79 | T | E | C | 2 | 71 |
| 175 / 70 R13 | | 82 | T | E | C | 2 | 71 |
| 165 / 70 R14 | | 81 | T | E | C | 2 | 71 |
| 165 / 70 R14 | | 85 | T | E | C | 2 | 72 |
| 175 / 70 R14 | | 88 | T | C | C | 2 | 71 |
| 65 Series | | | | | | | |
| 155 / 65 R14 | | 75 | T | E | C | 2 | 71 |
| 165 / 65 R14 | | 79 | T | E | C | 2 | 71 |
| 175 / 65 R14 | | 86 | H | E | C | 2 | 71 |
| 175 / 65 R14 | | 82 | T | E | C | 2 | 71 |
| 185 / 65 R14 | | 86 | H | E | C | 2 | 72 |
| 175 / 65 R15 | | 84 | H | E | C | 2 | 71 |
| 175 / 65 R15 | | 88 | H | E | C | 2 | 71 |
| 185 / 65 R15 | | 88 | H | C | C | 2 | 72 |
| 195 / 65 R15 | | 91 | H | C | C | 2 | 72 |
| 215 / 65 R16 | | 102 | V | C | C | 2 | 72 |
| 60 Series | | | | | | | |
| 165 / 60 R14 | | 75 | H | E | C | 2 | 71 |
| 185 / 60 R14 | | 82 | H | E | C | 2 | 71 |
| 185 / 60 R15 | | 88 | H | C | C | 2 | 71 |
| 195 / 60 R15 | | 88 | H | C | C | 2 | 72 |
| 205 / 60 R16 | | 96 | H | C | C | 2 | 72 |
| 215 / 60 R16 | | 99 | V | C | C | 2 | 72 |
| 215 / 60 R17 | | 100 | V | C | C | 2 | 72 |
| 225 / 60 R18 | | 104 | V | E | C | 2 | 72 |
| 235 / 60 R18 | | 107 | V | C | C | 2 | 72 |
| 55 Series | | | | | | | |
| 185 / 55 R14 | | 80 | T | E | C | 2 | 71 |
| 185 / 55 R15 | | 82 | H | E | C | 2 | 71 |
| 185 / 55 R15 | | 86 | H | E | C | 2 | 71 |
| 195 / 55 R15 | | 85 | H | E | C | 2 | 72 |
| 195 / 55 R16 | | 87 | H | E | C | 2 | 72 |
| 205 / 55 R16 | | 91 | V | C | C | 2 | 72 |
| 205 / 55 R16 | | 94 | V | E | C | 2 | 72 |
| 215 / 55 R16 | | 97 | V | C | C | 2 | 72 |
| 205 / 55 R17 | | 95 | V | C | C | 2 | 72 |
| 215 / 55 R17 | | 98 | W | C | C | 2 | 72 |
| 225 / 55 R17 | | 101 | W | C | C | 2 | 72 |
| 235 / 55 R17 | | 103 | V | E | C | 2 | 72 |
| 215 / 55 R18 | | 99 | V | E | C | 2 | 72 |
| 255 / 55 R18 | | 109 | V | C | C | 2 | 73 |
| 50 Series | | | | | | | |
| 195 / 50 R15 | | 82 | V | E | C | 2 | 72 |
| 205 / 50 R17 | | 93 | W | C | C | 2 | 72 |
| 215 / 50 R17 | | 95 | W | E | C | 2 | 72 |
| 225 / 50 R17 | | 98 | V | C | C | 2 | 72 |
| 235 / 50 R18 | | 101 | V | C | C | 2 | 72 |
| 45 Series | | | | | | | |
| 205 / 45 R16 | | 87 | V | E | C | 2 | 72 |
| 215 / 45 R17 | | 91 | W | E | C | 2 | 72 |
| 225 / 45 R17 | | 94 | V | C | C | 2 | 72 |
| 235 / 45 R17 | | 97 | V | C | C | 2 | 72 |
| 40 Series | | | | | | | |
| 245 / 40 R18 | | 97 | W | E | C | 2 | 72 |